Strength & Health Gym in Bakersfield
Thank you for visiting Strength and Health Gym! We are a mecca and landmark of Bakersfield since 1982! Our specialty is strength training in Bakersfield. We believe in strength training because it is the foundation and core to every bit of how you look and feel. Muscle gains help you lose weight, look better, and feel like a champion way faster than any other method. We believe in these principles because they are scientifically and biologically proven to be true. Many people try diets and fast track gimmicks because they are easy and people naturally want to be lazy. If you are willing to work for it, we can show you the way and guarantee success better than any fad diet you can think of!
Strength Training in Bakersfield
318 21st Street
Bakersfield, CA 93301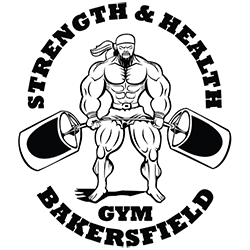 Were You Searching for a Gym Near Me?
Strength and Health Gym is a no-nonsense, no frills place focused on achieving results. Come see for yourself what sets us apart from the rest. You'll find a gym with experienced and passionate people who understand what it takes to get be successful. With a long history behind it, we are one of the last "golden age" gyms out there. We will help you get on track to being in the best shape of your life. If you're looking for a gym membership where you will get results, look no further. We're not for everyone, but if you're serious about putting in the work, this is the gym membership for you.
Strength Training Gym Free Trial
Strength and Health Gym is the oldest, longest established gym in Kern County. Come see for yourself why this "old school" real gym has stood the test of time. Take advantage of our upfront pricing on the best gym membership in Bakersfield. We have a wide variety of gym membership options and significant discounts when you pay in advance. Still on the fence? Get a FREE 7-day gym free trial and let us show you why Strength and Health Gym in Bakersfield is the right fit for you.